Photo courtesy of EverybodyFights
Boston is known for its wellness and fitness-filled communities—just step outside during an above average day and the city's streets and sidewalks are overwhelmed with leisurely walkers and serious sprinters. And while it's not always easy to get yourself in the moving mindset, the city is rife with studios that make working out, dare we say, fun?
To help you decide what to try next, we've rounded up Boston's best and most unconventional workouts that will keep you going back for more, with everything from rowing to aerial yoga to free outdoor workouts that involve scaling the steps of Harvard Stadium. Here's where to take a class at the hottest and coolest new workouts in Boston.
Lovejoy Wharf
If you're looking to improve your posture and engage over 86% of your muscles (we're talking legs, arms, core and back), Row House in Lovejoy Wharf could be your next fitness fixation. Just steps away from TD Garden, the space is similar to your favorite cycling studio but lined with state-of-the-art rowing machines and weights on hand for the strength and intervals classes.
Pricing: First class is free; $32 per class
Seaport & Financial District
With circuit training, heavy bag, treadmill and boxing classes available (not to mention an open gym), EverybodyFights has a little something for everyone. Located within Seaport and the Financial District, the gritty but super sleek setup looks like a completely tricked out boxing gym, even featuring a boxing ring as the focal point of the space.
Pricing: First class is free; $35 per class
Fenway
To spice up your average yoga session, on Saturdays, Boston-based yoga instructor Andrea Savino takes power vinyasa to new heights with classes offered on the 14th floor of Bower, Fenway's luxury apartment complex. You can also keep an eye out on her Instagram to find out where she's at next, as she hosts a bunch of other classes including Yoga in the Beer Garden at Bow Market's Remnant Brewing.
Pricing: $15 per class
Downtown Crossing & South Boston
This list really wouldn't be complete without a spinning element and what better way to spin than with Boston's very own B/SPOKE. The 45-minute long classes engage a full body workout by incorporating cardio intervals, choreography, and hand weights. The studio also offers a variety of strength training and stretching programs including yoga, HIIT, and more for an all encompassing workout regimen.
Pricing: $29 per class (new client package is $29 for first two classes)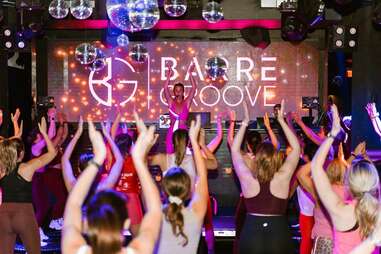 Theater District
Barre Groove puts an energetic spin on your run of the mill barre workout by incorporating small trampolines to get your heartrate up. And more recently, the studio partnered with Bijou (yes, the nightclub) to bring you their high intensity, low impact workout in a nightclub and lounge setting even featuring a live DJ to get you moving and grooving along during a truly unforgettable workout.
Pricing: $40 per class
Various locations
With warm weather on the horizon, Boston's fitness community is starting to move outdoors with free opportunities city-wide to enjoy a workout while getting some fresh air. Keep an eye on the city of Boston's Parks Fitness Series page for more ideas as we get closer to spring/summer, with past outdoor classes including zumba, yoga, tai chi, Afrobeats dance and more.
Pricing: Free
North End & South Boston
If you're not a treadmill fan, join the club. However, MYSTRYDE turns the workout completely upside down by incorporating an engaging and far from boring session to get in your daily dose of cardio. Choose from their combination of strength and treadmill, all treadmill, or all strength classes, set in a dark room lit with only purple lights to make you feel like you're living your most fit life during a fever dream.
Pricing: $31 per class
South End
If you're bound to your desk all day, there's nothing like some aerial yoga classes at Swet Studio to give your body a full stretch in an unconventional way. Classes range from their aerial beginner flow to aerial stretch in a hammock, with aerial pilates, core + arms, and even barre for those that are up for the challenge. To get an idea as to what the workouts look like in real time, check out their Instagram for different poses, motions and upside down shots – as you'll even see some smiles being sported mid-workout.
Pricing: $30 for two intro classes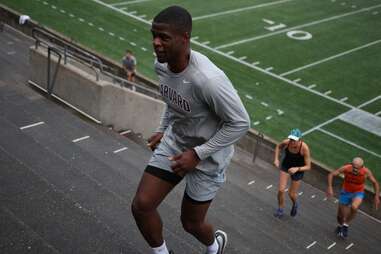 Various locations
The international fitness movement that began in Boston, the November Project is free for anyone that shows up, with in-person workouts offered every Monday, Wednesday and Friday at different locations (updates can be found on their Instagram). Workouts consist of everything from running, circuit training, climbing Harvard Stadium's stairs, and more.
Pricing: Free