WASHINGTON PARK — A faith-based nonprofit's plan to build an all-ages community center on a vacant Washington Park block has drawn a mix of praise for its potential benefits and concern over its requests for public funds.
Sunshine Gospel Ministries is planning a $32 million community center on vacant lots bounded by 60th and 61st streets, King Drive and Calumet Avenue. A building at 6048 S. King Drive would not be affected, officials said.
The Sunshine Community Center would have a 20,000-square-foot fitness area, visual and graphic arts classrooms, a recording studio, a tech room, lounges for youth and adults, a café with a stage for performances and a demonstration kitchen for healthy eating instruction.
Other amenities include two indoor basketball courts and two outdoor athletic courts, a fitness room and a dance studio.
Community programs would be free, and neighbors would only pay fees to rent multipurpose spaces for private events, Sunshine Executive Director Kimberly Salley said. It's estimated to be completed in 2025, according to the nonprofit's website.
The community center "is for the 20th Ward and for other neighbors that would want to come in surrounding areas," Salley said. "It's [for] young people, K-12th grade; young adults, as it relates to mentoring and workforce development; it is, through our violence intervention program, for survivors of gunshot wounds and their families … ."
Three schools are within about a 15-minute walk of the proposed site: Fiske Elementary, Chicago International Charter School-Washington Park and Dulles School of Excellence.
Older people who are not served by Sunshine's existing programs would also benefit from services like gathering spaces, tech access and a variety of classes, Salley said. It's projected to serve 2,000 people per year, officials said.
"When I say demographically comprehensive, that's what I'm saying as it relates to our programming — the whole entire family unit," Salley said.
Sunshine would move its offices at 500 E. 61st St. into the center, allowing that space to be repurposed into storefronts or a business incubator, officials said.
Other office space in the center would be available to local entrepreneurs for rent or as co-working space. Sunshine Enterprises — a related but separate nonprofit — runs the Community Business Academy, through which small business owners learn ways to grow their brands.
Of the estimated $32 million cost, $25 million would go toward construction, $5 million would pay for "soft costs" like legal aid and designs and about $2 million would be spent to acquire the city-owned vacant land, said David Doig, president of community developer Chicago Neighborhood Initiatives.
Illinois has set aside a $13.5 million grant for the project with help from 4th Ward aldermanic candidate and state Rep. Lamont Robinson, Doig said. The developers are using New Market Tax Credits to generate about $6 million and have raised about half of their $5.5 million private fundraising goal, he said.
The developers have applied for a $5 million Chicago Recovery Grant and are pursuing $2 million in tax increment financing, or TIF, funding for the project. Sunshine is also requesting a zoning change to designate the vacant land as a planned development.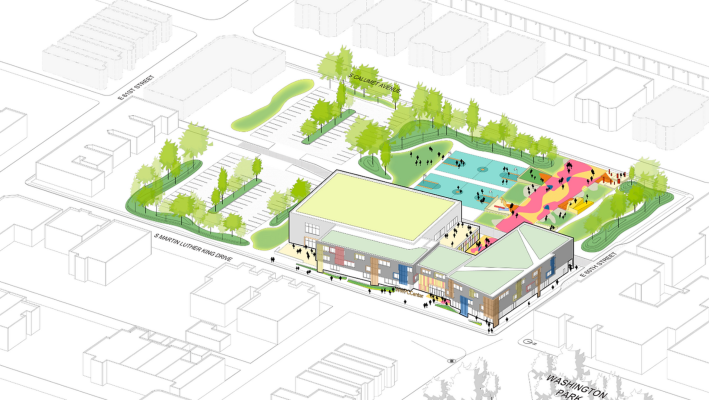 Neighbors raised concerns about the proposed zoning change, the use of Washington Park TIF funds and the extent of public outreach about the plans Wednesday at a meeting hosted by Ald. Jeanette Taylor's (20th) office.
It would be unacceptable to use neighborhood TIF funds to eliminate the potential for residential development on the large site, said Cecilia Butler, president of the Washington Park Advisory Council.
The site's proximity to public transportation and the park, coupled with the lack of existing buildings to demolish, make it "one of the best blocks that we have to offer in the Washington Park community" for future housing, Butler said.
"Everything down King Drive needs to be housing," she said. "We do not need to create another community center [for] another not-for-profit in a poor community. … To use $2 million of Washington Park TIF funds is a total insult."
Butler was removed from the virtual meeting for making "personal" attacks alongside voicing her issues with the proposal, said Tyra Owens, a staffer with Taylor's office.
While there may be a need for more housing in the neighborhood, there must also be services to complement housing — which Sunshine would provide, Salley said.
"You want families to want to live somewhere where there are resources and opportunities," she said. "In some situations, there's so much housing built — then what is there to do outside? What is there for kids to do? We're talking about a capacity issue with kids and making sure that there's enough programming."
Some neighbors said they were excited about possible collaborations between the Sunshine Community Center and centers in the works from nearby community groups Future Ties and Project H.O.O.D. All three proposed projects are within a mile of each other on King Drive.
"I think this would be the perfect project that utilizes TIFs," said Anthony David Bryant, a newly elected 3rd District police council member. "TIFs, unfortunately, in the city of Chicago and other areas, have been used for franchises … and other entities that have multi-billion dollar budgets."
Several neighbors asked the developers to do more outreach about the project. Some attendees said this week's meeting was the first they'd heard about the project, despite it being in the works for at least a couple of years.
Taylor's support for the TIF funding and zoning change will depend on the results of a future community vote. Neighbors who live within a half-mile of the community center site are eligible to vote.
Another virtual meeting on the center will be held 6 p.m. Monday. To attend via Zoom, click here.
Listen to "It's All Good: A Block Club Chicago Podcast":