Virginia, USA-based aircraft maker Electra has completed the first flights of its hybrid-electric short take-off and landing aircraft, EL-2 Goldfinch.
The two-seat EL-2 Goldfinch electric short take-off and landing (eSTOL) aircraft is a technology demonstrator and the world's first blown lift aircraft that uses distributed electric propulsion and is hybrid-electric .
The aircraft uses eight electric motors to increase wing lift and enable short take-offs and landings of 150ft, while reducing the noise and emissions below those of conventional aircraft and helicopters.
Electra's vice president and general manager JP Stewart said, "The Goldfinch completed an all-electric test flight on November 11 and a hybrid-electric flight on November 19, both piloted by Cody Allee, from the Manassas Regional Airport in Virginia. The first hybrid flight lasted 23 minutes, reached an altitude of 3,200ft and covered a distance of approximately 30 miles.
"We're looking forward to further expanding the envelope of this aircraft and demonstrating the full capability of Electra's technology."
The Goldfinch is flight testing technology that Electra plans to use in an eSTOL aircraft it plans to certify and enter into commercial service under FAA Part 23 regulations during 2028.
That nine-passenger aircraft will be able to take off and land with ground rolls as short as 150ft (45m) and fly at speeds of 200mph (320km/h) up to distances of 500 miles (800km).
Electra is developing a full-scale pre-production prototype eSTOL aircraft using US$85 million of US Air Force funding as part of the AFWERX Agility Prime Program.
Electra is aiming for both regional commercial and government markets and says it has pre-orders from more than 30 customers for over 1,700 aircraft, totaling more than US$6 billion in backlog.
Electra founder and CEO John Langford said, "Electra aims to fill a gap in air travel between 50 and 500 miles, where most trips today are made by automobile. The key to saving time is to operate close in, which means getting in and out of small spaces quietly and safely, while still being fast enough to cover long distances.
"Electra will be able to take you from downtown Manhattan not only to Kennedy Airport, but to Washington, DC. It will bring air service to thousands of communities where air travel today is not a practical or affordable option. It also opens vast new opportunities for middle-mile cargo logistics."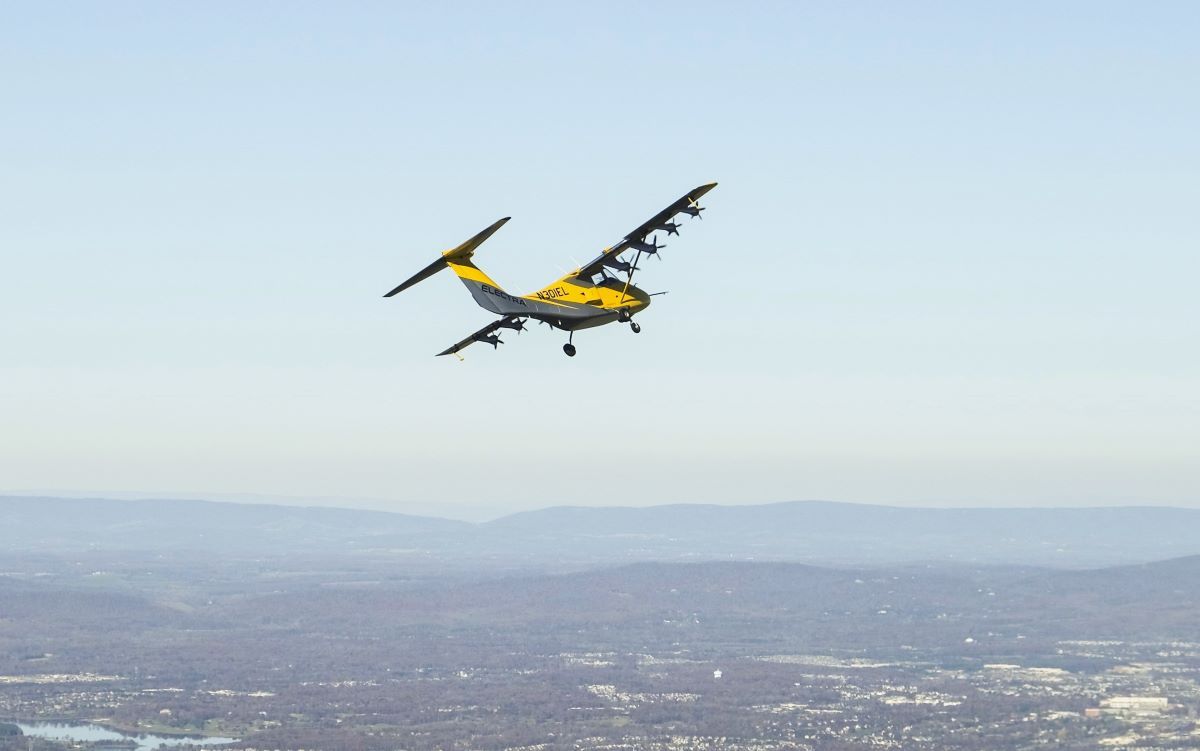 Modified Cessna
The two-seat, piloted, technology demonstrator aircraft uses modified wings from a Cessna 172 while the rest of the airframe is new.
"The original concept was to start with a Cessna 172 as the basis for the whole airframe to reduce cost, but early in design it became clear that the systems integration favored a clean-sheet design," said Stewart.
"The two-seat demonstrator is about showing we can make a full-scale 'real' aircraft that takes off in 150ft and enables us to learn everything we need to know about the performance, control, and systems management to move confidently to the next larger aircraft. It's about methodically reducing the risks in development performance, schedule, and cost."
A key decision for the program was that the demonstrator aircraft should be piloted instead of unmanned. Stewart said, "There is a lot of insight that an onboard pilot brings to the table that you do not get with an unmanned aircraft. If the aircraft is unmanned, the decision to take more risk becomes more of a financial decision to cover the cost of a crash and replacement
The demonstrator will also play a crucial role in flight testing of the novel 600kW hybrid-electric propulsion system. Electra worked with partners to develop the propulsion system to provide a more detailed understanding of it but does not intend to make its own propulsion system in the future.